[EIDETIC INSIGHT] Speaking to Consumers in a COVID-19 World
by Kenneth Nienhuser
With social distancing in full swing, many are stuck at home as everyone around the world is waiting out the pandemic. This has hit the economy in a severe way, with the global economy suffering a 12% contraction during the first quarter of 2020, according to JP Morgan. As a result, companies around the world are seeking methods to increase sales and reach audiences at home. Whether this be through the leverage of technology, meaningful marketing techniques, or a reassuring voice during this trying time, these brands stand out for their quick adaptations during the global pandemic.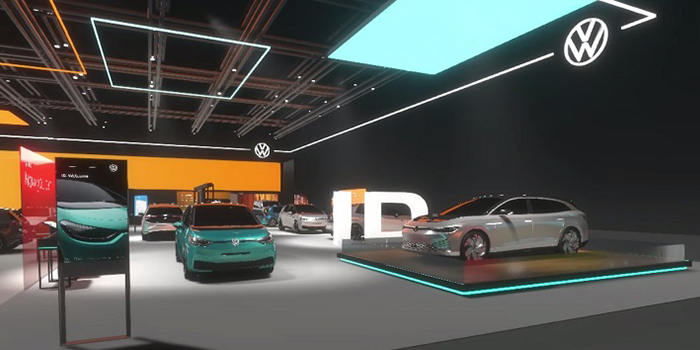 Source : Volkswagen
Taking it Digital
With most major B2C events being canceled due to health and safety reasons, automotive brands had to transform their traditionally offline exhibits into digital premieres that would reach audiences across the globe from the comfort of their own homes. Volkswagen took this opportunity to create a unique, virtual, solution in response to the cancelation of the Geneva Motor Show, by creating their own virtual showroom. The Volkswagen virtual showroom allowed digital 'visits' of the VW exhibition floor, where several models were on display. Virtual attendees are able to navigate their way through the showroom floor, listening to presentations about the vehicle USPs or freely wander around. They are also able to customize the vehicles they view by selecting the model's paint job and rims. With the delay or cancelation of other motor shows like NAIAS, the automotive industry is exploring new ways of reaching audiences, and it stands to reason that automotive brands will find more ways to leverage technology to reach customers digitally.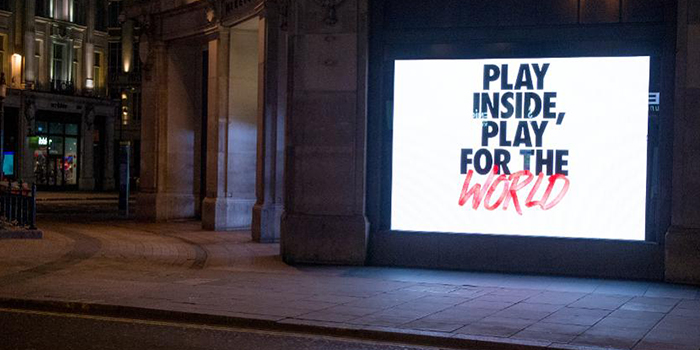 Source : NIKE
Marketing with Meaning
The current pandemic has also presented an opportunity for brands to present themselves in a more generous and socially conscious light. Meaningful marketing allows for brands to connect with their audiences by interconnecting their brand image with a campaign that benefits audiences. NIKE is no stranger to marketing with meaning, having taken stances behind social issues, like their 2018 Dream Crazy campaign featuring the controversial Colin Kaepernick, a prominent Black Lives Matter activist, as well as notable campaigns like their Find Your Greatness series that encouraged audiences to pursue their own paths to greatness, no matter how they viewed it. This time, the message is to stay home, not just for their sakes, but for the world's, rallying behind the call to Play for the World. The campaign has been centered around providing support for those in isolation while encouraging those at home to stay active.
Nike's Play Inside campaign offers access to their NTC Premium membership for free, further incentivizing athletes to help the world recover from the pandemic, and maintain social distancing by training indoors. Since starting their community workouts, the combined views on their community workouts page has surpassed 1.5 million views, with more audiences turning in every week.
Source : GUINNESS
Positivity Counts
COVID-19 has done a number on people's worldviews, as many are finding themselves in low spirits due to the effects of the pandemic. This is why some brands have decided the best message they could send now is one of reassurance. Guinness has also sent out a message of reassurance, as the celebration of St. Patrick's Day was understandably quelled due to the pandemic and the danger of social gatherings. Large parades that are iconic of the festivities will not be held this year for health and safety concerns. Thus, the brewing company released a video stating that "we'll march again" to their audiences, signifying that there will always be another time to march for celebration, and that this pandemic will not be the end of good times, or tradition. The brand also announced its commitment to the Guinness Gives Back Fund of $1 million in support of its local community and hospitality workers who have fallen on economic hardship due to the global situation. While everyone maintains social distancing, hospitality workers are sore for business, and this support will surely not go unnoticed.
In essence, show you're still there
Regardless of how your brand chooses to navigate these times, it is important to remind your audiences that you are still there, and that you're speaking to them. It is easy for people to feel like they are alone in this, with isolation and social distancing in effect, so it is important, now more than ever, to speak to your consumer base, and let them know we are all in this together.