[EIDETIC INSIGHT] The Future is Human
by Kenneth Nienhuser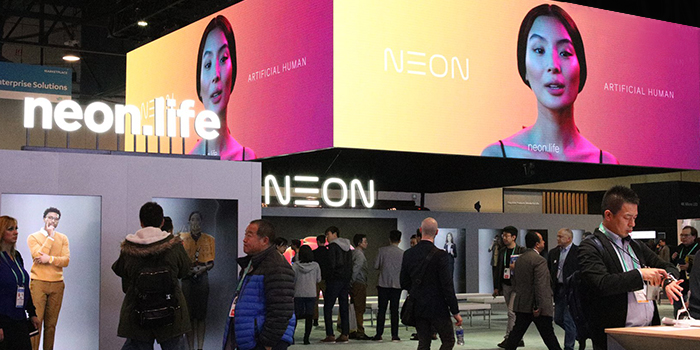 Source : https://www.facebook.com/pg/neondotlife/posts/
The Future is Human
At CES 2020, AI was out in full force. From automobiles and home appliances to cities themselves, AI seems to be destined to become more integrated into our daily lives. As cold and calculated as that may seem, there was one San Francisco-based start-up at CES this year that wanted to show the more human side of AI with their new human-interface interactive technology. This year, I had the pleasure of visiting the booth of STAR Labs, an independently operated Samsung subsidiary, which has created the NEON, a "computationally created virtual being" that resembles an actual human being that is supposed to further bridge the gap between humans and the world of Artificial Intelligence.
NEON and the Brains Behind Them
STAR Labs began as a small team of brilliant researchers and scientists, led by their CEO Pranav Mistry, former senior vice president for Samsung Electronics. The goal is singular in focus: to create the next iteration of communication, and that iteration comes in the form of the "Artificial Human", or as they're officially called, the NEON.
At first glance, when talking to a NEON, it may appear that you are conversing with another voice assistant that just happens to look human on screen. However, STAR labs have created NEONs to not just be the next Siri or Alexa. NEONs aren't designed to be your music player or weather checking assistant. They look and behave like another person, showing emotions, intelligence, and patterns of speech. Meaning they are meant to behave as our companions, confidantes, and even our collaborators. They learn and evolve with you, creating memories from past interactions, acting more as a close friend rather than a 'know-it-all' bot you can check the distance to the moon in giraffes with (which is 69,890,910 giraffes by the way).
NEONs are also not customizable. They resemble or are directly modeled after real people, and each have their own unique personality, complete with expressions, movements, and dialogs. This means that the focus will be placed on interaction through conversation, rather than more superficial aspects like clothing or body type. These new beings are meant to do what other voice assistants have failed to do before them, actively engage users.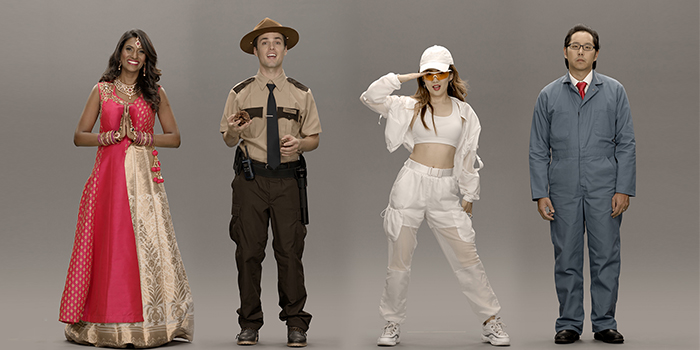 Source : https://www.facebook.com/pg/neondotlife/posts/
Your Next Experiential Marketing Asset?
Though they are designed to be more personal in interaction, the NEON is not set to be sold for personal ownership any time soon. The business model for these companions is more of a subscription service, with businesses and organizations being able to lease their services for a variety of duties, like a translator, service representative, or concierge. When speaking with a representative from STAR Labs, the purpose of this 'domain-specific' deployment of NEONs was to make sure that they were not used for purposes beyond their intended use.
For experiential marketing, a deployable form of interactive assistance at booths and events sounds appealing. Being able to reduce the amount of manpower, and all costs that coincide with that, with an efficient, personable staff member that can act as a presenter, information desk attendant, or even product model is a prospect that is hard not to get excited about. And with NEONs being digital, a NEON could do presentations in an event in Shanghai in the morning in Shanghainese and then work a different exhibit in Los Angeles in English and Spanish later the same day. These advantages will surely help NEONs catch on once the technology becomes available.
Still in the Works
For now, the NEONs are a far way off from seeing wide-spread use. This year's exhibit showcased a very limited use of the interactive technology at work, with most displays only running pre-recorded demonstrations. When talking with our STAR Labs contact, there was a Phase 2 in the works, but the release date for this seems to still be far off. Either way, we are looking forward to the next step in the Artificial Human evolution.
Thumbnail Image Source : www.digitaltrends.com

THERE WAS A PROBLEM WITH YOUR SUBMISSION.
Have you checked all the required fields?

We want you to write your Company, Name, E-mail, Budget, Country to Execute, Website URL, Wanted Services and Project Description.Thanks.